Geomagic Control X
Bring the power of 3D scan-based inspection to more people in more places with industry-leading metrology software that makes it easy to capture and interpret scan data.
Contact us:
TEL: +086-010-50951355 / FAX:+86-010-50951352
Email : cathy@souvr.com / Frank@souvr.com / Robin@souvr.com / sales@souvr.com
Details

Related

Consulting
※Product Overview※

Geomagic Control X

ENSURE QUALITY EVERYWHERE
Bring the power of 3D scan-based inspection to more people in more places with industry-leading metrology software that makes it easy to capture and interpret scan data.
Try Geomagic Control X for yourself.


Overview

What is Geomagic Control X?
Geomagic Control X Inspection Software Scan processing of a valve
Geomagic® Control X™ is a professional metrology software that lets you capture and process the data from 3D scanners and other devices to measure, understand, and communicate inspection results to ensure quality everywhere. With Geomagic Control X, more people in your organization can:
• Measure faster
 • Measure more often
 • Measure more completely
 • Measure anywhere
Ensure Quality Everywhere
Bring the power of 3D scan-based inspection to more people in more places with software that makes it easy to both capture and interpret scan data.

Gain Deeper Insights Beyond Pass/Fail
3D scanners capture far more information than a hand tool or CMM ever could. Control X lets you leverage that rich data to understand why parts are in or out of tolerance.

Optimize Manufacturing Processes
With insights gained from comparing scanned parts to CAD models or golden parts in Control X, stakeholders can recognize and address issues faster than ever.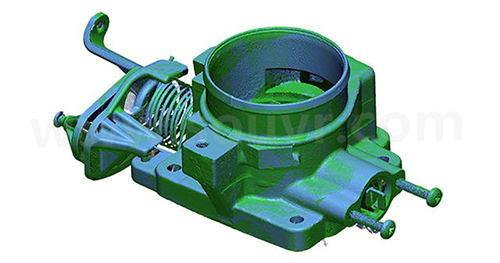 "Using Geomagic Control X, our testing is 2-3 times faster than in the past, and we can aim for much higher manufacturing efficiency."
Tetsuya Matsumoto, Quality Assurance Manager at leading automotive supplier Asano, Japan


What Can You Do with Geomagic Control X?

Design
Design for Manufacturability
Use Control X to check prototypes and address manufacturability issues such as deformation after molding or casting.
Don't Just Find Problems, Fix Them
Any inspection software can show you where parts are out of specifications. Control X integrates tightly with CAD and Geomagic Design X so you can update your 3D CAD models to compensate for any problems.

Manufacture
Identify and Resolve Manufacturing and Assembly Issues
Scanning provides a complete view of your parts. Control X gives you the tools and the flexibility to understand how and why a part may have issues and keep production on track.
Eliminate Costly Scrap and Rework
 Empower more people to inspect incoming parts from suppliers to prevent defective parts from making it to assembly.
Inspect
Solve Your Toughest Measurement Problems
Control X has the tools to satisfy demanding quality control requirements, so you can solve your most complex metrology challenges. Go beyond simple alignments and color maps.
Improve Quality Documentation
3D scanning a part creates a complete digital record of all of its geometry. You can perform additional measurements at any time, even when the part is no longer physically present. Discover an issue six months from now? Just pull up the scan and check any dimension – no need to remeasure the part.
Reduce Quality Control Bottlenecks
Control X is so intuitive, you don't have to be a highly trained or experienced metrologist to use it. Combined with the portability of 3D scanning, more people in the organization can leverage 3D scan-based inspection.

Maintain
Assess Damage, Deformation or Wear Accurately and Consistently
 Scanning reveals wear or deformation even in unanticipated places. Control X's automated alignment and deviation analysis tools make it easy to locate and measure part wear.
Predict Part Failure Before It Happens
 Monitor changes in a part's geometry over time to catch unforeseen problems and take
corrective action. Control X includes trend analysis and reporting, so you can predict when a part or tool might fail.


Why Choose Geomagic Control X?
Easy to Learn
Don't have time to become an expert in inspection software? Control X is for you. Start getting results with little or no training.
Quick to Use
Control X is flexible – it follows the way you work, not the other way around. And scan-native algorithms built on a CAD kernel make handling huge data sets fast and easy.
Everything You Need
Control X comes with everything you need for professional-level inspection. You don't pay extra for CAD importers, scan mesh processing tools, or airfoil analysis capabilities.
Born to Work with Your 3D Scanner
Get the most out of your 3D scanner with software designed from the ground up to work with it. Control X works with every 3D scanner, so you can add more devices and keep a common software interface to them all.


7X faster
3D scanning and inspecting parts with Control X is up to 7x faster than with a CMM


80% lower
Control X customers report up to 80% lower inspection costs based on time and labor savings

Keep Up To Date

Focused Interactive Webinars in 20 Minutes
Let a Geomagic Application Engineer guide you through the specific processes that matter to you!


The Geomagic Product Spotlight series is a series of laser-focused webinars that highlight distinct features of the portfolio of Geomagic software applications, including Geomagic Design X, Control X, Freeform, Wrap, and Geomagic for SOLIDWORKS. These 20-minute webinars are hosted by a Geomagic Application Engineer.


Geomagic Control X 2018
Geomagic Control X 2018 addresses unique requirements for the aerospace and automotive industries, providing 50% increase in efficiency over competitors.
Features


Scan Processing Automation
 Scan registration, merging, clean-up, and other pre-inspection
 processes can now be designed and automated within Geomagic
 Control X.
 • Implement automated processes individually, automatically,
 and/or in batches
 • Create custom scan workflows specific to scanners or routines


Deviation Location
 With Geomagic Control X 2018 you can analyze the size, shape and
 location of deviation groups. This key inspection capability allows you to:
 • Quickly identify and measure surface deviation, including dents,
 corrosion, and other types of wear
 • Automatic measurements allow for quick and turn-key inspection


Airfoil Analysis
 Whether you are working on turbines, blisks, blings or blades,
 Geomagic Control X 2018 provides a fast and intuitive way to gather
 profile measurements.
 • Create profile measurements both automatically, or using
 custom methods
 • Includes Twist Analysis


Multi-Alignment Inspection
 The new Multi-Alignment Inspection capability allows you to create
 repeatable inspection routines that require measurement in
 different alignment environments. This is especially useful when
 inspecting parts that could have large deformations such as sheet
 metal, or long-range applications like bowed structures.
 • Auto-create geometry and measure between features using
 different alignment schemes
 • Repeatable set up allows for automated inspection of the
 most deformed parts such as sheet metal or plastic molded
 components


Custom Reporting Delivers Flexibility in Inspection
 Reporting has been enhanced giving users more tools to easily
 create inspection reports to analyze their results with:
 • Data table templates allow for more flexible reporting
 • Result Navigator information can be inserted into reports
 • Users can now export into a 3D PDF format
 • Algorithm improvements that decrease
 calculation times by ~33%


Enhanced UI/UX
 Geomagic Control X sports a fully enhanced user interface enabling
 even faster workflows and more efficient inspection.
 • New Custom Profile feature allows users to create user-specific
 interfaces and settings increasing usability and simplifying
 interaction
 • Reference Geometry can now be created and paired with
 contextual shortcuts enhancing no-CAD as well as general
 workflows
 • Users have new control over dimensional annotations such as
 arrows and center marks
 • Dimensional tolerances can be automated based on
 ISO-compliant parameters


Enhanced Scanning and Import Capabilities
 File import capabilities have been enhanced in Geomagic Control
 X 2018, providing the latest connectivity to scanning devices and
 improved CAD importing on even the most challenging reference
 models.
 • New and updated integration with popular metrology devices
 from Faro, Hexagon, Creaform, Nikon, Solutionix, and more
 • Legacy Control Files can now be imported
 • Updated CAD import provides more reliable import of CAD files
 • ASCII reference Geometry importer enables users to import
 geometry from simple text-based formats
 • Improved architecture that uses up to 37% less memory when
 handling scan data


Workflow-driven Processes, Walk-up Probing for Greater Productivity

CAD-aware Dimensioning, PMI Support and Comprehensive GD&T Callouts

Multiple Results Analysis in Inspection Drives Knowledge

Repeatable Probing Processes with LiveInspect™ for metrology
Geomagic Control X supports a variety of probing workflows using portable CMM devices.
 • Preplan your Inspection
 Create detailed probing processes offline, then connect to your device and press "Play."
 • Guided or Free Inspection
 - Measure features in any order you wish or pre-define a measurement order. Both methods provide repeatable processes.
 • Walk-up Inspection
 - No plan? No Problem. Walk-up to your device, align and measure with intuitive probing tools, and Geomagic Control X will create the plan for you afterwards.


Easily Add Annotations In Geomagic Control X
Adding annotations in Geomagic Control X has been enhanced for more customization and freedom of choice in how annotations are shown.


Specifications

Visit Our Support Site for Geomagic Control X Specifications
Geomagic System Requirements
Listed below, you will find the system requirements for Geomagic Solutions software.


Note: System requirements for Geomagic Freeform, Freeform Plus, and Sculpt may be found here.
Note: 32-bit versions of all products are discontinued as of October 2015.
64-bit Edition

OS

 - Windows 7

 - Windows 8

 - Windows 10
         
   Note:  *Configurations using Virtual environments, including parallels, are not supported

CPU

- Intel® and AMD® processors with a minimum 2 GHz clock speed*

- Recommended: Multiple core processors. Hyperthreading and clock speeds above 3 GHz can be beneficial but should be paired with a good balance of cores.

RAM

- Minimum: 8 GB

Hard Disk

- 30 GB or more recommended

- Temporary file cache requires about 3 GB free disk space for every 100 million points

- Recommended: a SSD with more than 256GB of space or a 10000 RPM HDD

- Recommended for 3D Scanning products: using multiple hard drives and assigning one as a "cache" drive for temporary storage and paging files and assigning the other for the operating system

Display

- 32-bit true color required

- Minimum resolution: 1280 x 960

- Recommended resolution: 1280 X 1024 or higher

GPU

Design X recommended graphics cards

Recommended: Dedicated (Non-Integrated) Graphics Card that meets the criteria below:
               
             Video Card RAM: 4GB or More
             
             Video Card Framework: Must support OpenGL 4.0 or above
             
             Series: NVIDIA GeForce 900 series or NVIDIA Quadro equivalent or higher

AMD Radeon 400 series or Radeon Pro equivalent or higher

Control X recommended graphics cards

Recommended: Dedicated (Non-Integrated) Graphics Card that meets the criteria below:
             
           Video Card RAM: 2GB or More
           
           Video Card Framework: Must support OpenGL 4.0 or above
           
           Series: NVIDIA Quadro

Control, Wrap and Essentials recommended graphics cards

Recommended: Dedicated (Non-Integrated) Graphics Card that meets the criteria below:
             
           Video Card RAM: 2GB or More
           
           Video Card Framework: Must support OpenGL 4.0 or above
           
           Series: NVIDIA Quadro

Notes:
             
           Using a non-recommended card may result in random crashing, graphical anomalies, or data corruption. Use of any non-recommended configuration at your own risk.

Other

- 3 button mouse with scroll

- Sound card

- Keyboard

- Network card

- Internet Explorer version 7.x or higher

- Adobe Acrobat/Reader version 5.x or higher

- Microsoft Office 2003, 2007 or 2010 for reporting tools

- Microsoft Windows Installer 3.0

- Microsoft DirectX 9.0c or later

- Microsoft .NET 4.0 or 4.5 Framework

Geomagic Control X File Support

Scan Data Formats
Geomagic Control X supports all 3D digitizers, cameras, and scanners in XYZ/ASCII format and handles ordered and unordered surface and volume data.
• 3DD, RXP, RSP - Reigl
 • 3PI - ShapeGrabber
 • AC - Steinbichler
 • ASC, XYZ, TXT - generic ASCII
 • BIN, SWL - Perceptron
 • BRE, CTR - Breuckmann
 • CDK, CDM, RGV, RVM, VVD - Konica Minolta
 • CL3 - Topcon
 • CWK, CBK, GRK - Kreon
 • FLS, FWS, LSProj - Faro LS
 • G3D, SURF, CLOUD - GOM
 • GPD - Geomagic
 • HYM - Hymarc
 • l3D - Imetric
 • MPC - MantisVision
 • OPD - Optimet
 • PIX - Roland
 • PMJ/X - 3D Digital
 • PTC - Kubit
 • PTS, PTX, PTG - Leica
 • RGE - Shining3D
 • SAB2 - 3D Scanners
 • SCN - Next Engine
 • STB - Scantech
 • XYZ, CRS, LIN, SMH, BIN - Opton
 • XYZN - Cognitens


Polygon Import
 • 3DS
 • OBJ
 • DXF
 • PLY
 • IGS
 • STL
 • VRML
 • NAS
 • ANS


CAD Import
 • ACIS
 • SOLIDWORKS
 • CATIA
 • NX
 • CREO ELEMENTS PRO
 • AUTODESK INVENTOR
 • SOLID EDGE
 • IGES
 • JT
 • STEP 203/214/242
 • VDA
 • Pro/ENGINEER PRT
 • Parasolid .x_t* and .x_b*
 • RHINO


Languages
 • Chinese
 • English
 • French
 • German
 • Italian
 • Japanese
 • Spanish
 • Czech
 • Russian
 • Portuguese
Welcome to consult us!
Consulting type:
Consulting content:

Submit