Details

Related

Consulting
※Product Overview※
Powerful animation features get scenes moving and give you the ultimate creative control. Dynamic prop animations utilize industry-leading PhysX for natural rigid body dynamics and soft cloth simulation. Morphs and blend shapes expand your options for animating both characters and props, while a new and long-awaited Curve Editor now allows you to fine-tune motions for dynamic and exaggerated motions.
NEW! Morph Animation
Achieve dynamic and organic animation performance with a series of morphs added to props or skin-bone characters. This is a simple technique that adds incredible performance enhancing animation options which can be keyed and controlled inside iClone 7. The Morph Manager edits morph groups from a hierarchical model, and you can import OBJ morphs from 3D modeling or sculpting tools. Link selected morphs to adjust them individually using the iClone 7 Morph Manage interface. All imported blend shapes are available in the timeline with individual morph tracks. You can set keys and tweak values for each morph track in order to achieve ideal organic movement between morphs.
Character Morph Animation: Body morphs can be applied to exaggerate a 3D character's secondary actions.
 Prop Morph Animation: 3D props with several morph alternatives can turn a simple shape into a lively actor.
*Note: Morph Creator requires 3DXchange 7 PRO above.
Physics Simulation
Soft cloth effects can be used for hanging, swaying, or twirling objects in your scene. Use the gray map to determine which part of the cloth is controlled by cloth physics, which part is free, or which part is governed by skin-bone control. Wind control is also included to imbue your cloth with energetic flying behavior without laborious key-framing. By combining this technology with the body collision system, your animated character will look stunning with flowing hair and robes devoid of unwanted mesh penetration.
For rigid body physics, there is now a Visual Constraint system which makes it much easier to design sophisticated mechanical systems, making it easy to manage the relationship between components. In addition, you can also set rotational and directional forces to animate your designs using a more physics-based approach.


Animation Constraints
 This limits any 3D objects to only move along a defined animation path. Use look-at constraints to keep your character or prop constantly facing a specific target while in motion, or use Link and Unlink to have your actor hold a ball and then throw it away.

NEW! Animation Curve Editing
The Curve Editor Plug-in* allows you to adapt all the skills of classic animation principles to your iClone animations. Select a motion clip or a section of keys from the timeline and start applying curves to achieve the best animation performance. Exercise full control over time and space adjustments in your animations, create smooth and cinematic cameras, perform arc rotation for cartoon animation, and achieve the perfect ease-in and out behavior!
*Note: Curve Editor is a paid plug-in for iClone 7.1 above.

Timeline Editing
Edit animation keys and clips in Timeline for actors, accessories, props, cameras, lights, and particles, etc. Dope sheet, multi-track editing, and zoom view can let you manage object sub-tracks much easier.
New In v7.1 - Several usability improvements such as: Timeline Clip Sample & Flatten, Copy / Cut / Paste & Paste Opposite, Clip Timewarp & Speed, Clip Auto Extend, Clip Merge & Transition, new Transition Curve, etc.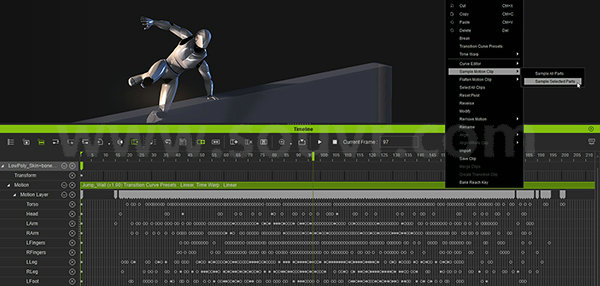 iClone 7 Trial vs. Full

Category
Trial
Full
Program
Time limitation
30 days
No limitation
Video export duration
30 seconds
No limitation
Max video output resolution
HD 720P?
   (1280x720)
4K?
   (3840x2160)
Max image output resolution
800x600
No limitation
Video output with watermark
Watermarked
No
Full screen mode
Yes
Yes
Login to activate
Required
No Need
Content
Embedded content
Yes?
   (Included in the Resource Pack)
Yes?
   (Included in the Resource Pack)
Purchase content assets in Reallusion Content Store & Marketplace
No
Yes
Try content assets in Reallusion Marketplace
No
Yes

 
 ? Note for Intel Graphics Cards
 ? Internet connection required for activating the trial version.
 ? iClone 7 can run alongside with iClone 6.x program. You can install iClone trial or full version without removing iClone 6.x program from your system.
 ? Reallusion will never rent, share or sell your personal information to any 3rd party.
System Requirements
 
 Operating System
 ? Windows 10, 8 and 7 (SP1)*
 ? Support for 64-bit operating system
 ? DirectX 11 is required
 *Note: Windows 7 sp1 + Platform Update (KB 2670838)
Minimum Requirements
 ? Dual core CPU
 ? 4GB RAM
 ? 5GB free hard disk space
 ? Graphics Card: NVidia GeForce GTX 400 Series / AMD Radeon HD 5000 Series
 ? Video Memory: 1GB RAM
 ? Display Resolution: 1024 x 768
 ? Color Depth: True Color (32-bit)
Recommended Requirements
 ? Intel i5 dual core CPU or higher
 ? 8GB RAM or higher
 ? 10GB free hard disk space or higher
 ? Graphics Card: NVidia GeForce GTX 600 Series / AMD Radeon HD 7000 Series or higher
 ? Video Memory: 2GB RAM or higher
 ? Video card compatible with Pixel Shader 3.0 recommended for optimized visual performance
 ? Display Resolution: 1920 x 1080 or higher
Additional Requirements
 ? Sound card / Speaker / Microphone
 ? Internet connection required for online activation
 ? Stereo devices and player are required for viewing contents with stereo vision
For Real-time GI Editing in iClone 7
 Please refer to the recommended requirements for NVIDIA VXGI*:
 ? Graphics card GeForce GTX 970 (4GB Memory), or above
 ? Intel i5 dual core CPU, or higher
 ? 8GB main memory, or higher
Note:
 ? To know more about NVIDIA's VXGI, visit NVIDIA GeForce - Technology - VXGI Technology
 ? For more about GPU requirements for VXGI, refer to VXGI – Supported GPUs ( GTX 10 Series included)
 ? For computers with lower GPU hardware, you will need to turn off real-time GI viewport render for smoother editing.
 ? GI also works with ATI cards, delivering correct visual results but with less performance boost.
iClone Real-time GI vs. Graphics Cards
 The current Graphics card market can be separated into three levels. The following chart provides the test scenerio and FPS data:
Graphics Card Definition

Graphics Card

Real-time Edit

Export Video

Level

Definition

GPU

VRAM

Simple Scene

Complicated Scene

High

NVidia next generation GPU?
   - Maxwell, Pascal
Nvidia

GTX 10 Series

2 - 12G

O

O

O

GTX 900 Series

2 - 12G

Mid

Video Memory Size >2G

AMD

RX 480

4G

RX 470

4G

RX 460

2G

R9 300 Series

4 - 8G

R9 200 Series

2 - 8G

R7 300 Series

2 - 4G

R7 200 Series

2G

HD 7990

6G

HD 7900

3G

HD 7800

2G

Nvidia

GTX 800 Series

850 & above

2-8G

O

△*

O

GTX 700 Series
750 ti & above

2-3G

GTX 600 Series

660 & above

2-4G

GTX 500 Series

590

3G

Low

Video Memory Size < 2G

AMD

HD 7700

1G

O

△**

△**

R5 Series

1G

Nvidia

GTX 700 Series

710 ~ 750

< 2G

GTX 600 Series

610 ~ 650

< 2G

GTX 500 Series

510 ~ 580

< 2G

GTX 400 Series

410 ~ 480

< 2G

Not Support

Feature Limitation

AMD

HD 6000 Series

X***

X***

X***

HD 5000 Series
* It is suggested to turn off Viewport GI for smoother editing experience on complex scenes.
 ** Loading complex projects can caused the program to crash depending on project size and video memory usage.
 *** GI related features are all disabled even in export video / image.
Note: For graphics card specification please visit the website for Nvidia and AMD.
Performance Test Result

Graphics Card
Sample Projects & FPS*
GI Disable
GI Enable
Level
Name
VRAM (GB)
1.Bouncing Ball
1.PBR Materials
2.Character Morph
0.Cornell Box
4.Particle_02
2.Loft Scene
High
Nvidia GTX 1080
8G
447
365
164
116
146
50
Nvidia GTX 1070
8G
377
391
163
97
146
40
Nvidia GTX 1060
6G
178
282
163
68
80
30
Nvidia GTX 1050 (notebook)
4G
135
131
101
30
42
14
Nvidia GTX 960
4G
134
143
109
35
46
15
Mid
AMD Radeon RX 480
8G
250
246
164
34
49
15
Nvidia GTX 760
4G
173
154
127
23
28
15
AMD R9 200 series
2G
160
187
105
20
30
15
 
Nvidia GTX 460
4G
109
48
43
13
14
X**
AMD Radeon HD 7700
1G
48
36
20
7
13
X**
Not Support GI
AMD Radeon HD 6800
1G
89
84
45
Not Support GI***
Not Support GI***
Not Support GI***

 
*iClone FPS UI display, the max is capped at 60 FPS.
** Loading complex projects can caused the program to crash depending on project size and video memory usage.
 *** GI related features are all disabled even in export video / image.
Welcome to consult us!
Consulting type:
Consulting content:

Submit