PiXYZ STUDIO
Brand:Pixyz
Hits:
User Ratings:(0)
It also embeds a Python API, allowing advanced users to create powerful scripts to automate complex data preparation tasks and plugins.
Contact us:
TEL: +086-010-50951355 / FAX:+86-010-50951352
Email : cathy@souvr.com / Frank@souvr.com / Robin@souvr.com / sales@souvr.com
Details

Related

Consulting
※Product Overview※


THE ULTIMATE CAD DATA PREPARATION & OPTIMIZATION SOFTWARE.


PiXYZ STUDIO is a unique 3D data preparation tool providing the best-in-class Tessellator, enabling the transformation of CAD data from industry-leading solutions (Catia, NX, SolidWorks…) into lightweight, optimized meshes.


PiXYZ STUDIO's interactive graphical user interface gives access to a large set of features and algorithms. It also embeds a Python API, allowing advanced users to create powerful scripts to automate complex data preparation tasks and plugins.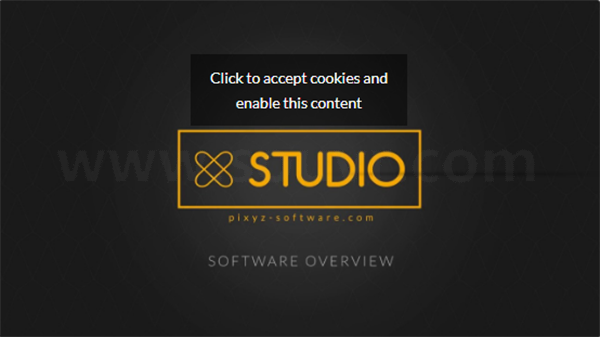 PiXYZ STUDIO helps companies and 3D users re-use their CAD data for any visualization scenario.

HIGH QUALITY MESH

OPTIMUM POLYCOUNT

COMPLEX AND HEAVY MODELS

LOW MEMORY USAGE

AUTOMATIC FAST TREATMENT

WORKFLOW


1. IMPORT a native CAD file within PiXYZ STUDIO: CATPart, 3DXML, Solidworks, JT, STEP...

2. ASSEMBLE at scale large CAD files, conform them in an efficient way.

3. TESSELLATE CAD models, turning them into light 3D meshes using powerful tessellation algorithms, with automatic UV creation.

4. INTERACTIVELY treat your 3D meshes with an easy-to-use and intuitive user interface. Combine and process them dynamically with the possibility of reversing actions (Undo/Redo history, Original CAD surfaces conservation) according to your scenario.

5. OPTIMIZE your 3D models using a large and powerful set of algorithms: Tree optimization, Decimation, Holes Removal, Hidden Removal, Automatic UV, Automatic Proxy creation, Predefined and customizable scenarios... and many more!

6. EXPORT lightweight and optimized tessellated models to your favorite staging tools: Unity3D, Unreal Engine, VRED, WebGL (GLTF), 3DSMax, Maya, SketchUp, Apple AR (USDZ) ...

7. SAVE your optimized 3D model to our native PiXYZ format to enjoy better flexibility and efficiency during the content creation and optimization process.

8. REPEAT your data preparation scenarios using Python scripting for semi-automatic treatment.

A COMPELLING SOLUTION

CAD FORMAT COMPATIBILITY

Import and combine files coming from most used CAD/3D solutions See formats supported in PiXYZ STUDIO.

NATIVE HIERARCHY

Access to the original product hierarchy (full scene tree), including Metadata, and to dedicated functions for optimizing it

POWERFUL ALGORITHMS

Get the best out of your CAD data and your optimization process by using powerful algorithms: Tessellation, CAD topology correction, Decimation, Healing...

HISTORY MANAGEMENT

Fine-tune mesh quality on specific parts of your model using the Re-tesselate feature and the Undo-Redo History

SCRIPTING EDITOR

Use the embedded Python API and the Scripting Editor, to create and save your own automatized processes

AUTOMATION*

Save your Data Preparation processes (developed with the Python API) as plugins to deploy them throughout your company


POWERFUL FEATURES


Find out more about PiXYZ STUDIO powerful and innovative features (see more)

STUDIO WORKFLOW EXAMPLE

Here is an example of a typical workflow that can be processed in PiXYZ STUDIO to efficiently prepare and optimize your CAD models.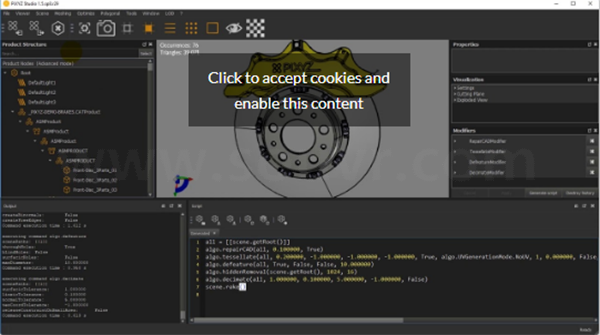 WHO IS IT FOR ?

Anyone who needs to take advantage of their 3D database: CAD experts, engineering & manufacturing departments, communication & marketing departments, agencies, interactive 3D developers, 3D artists, architecture firms...


"Before, I had to do a lot of manual operations in different software to optimize my CAD data. PiXYZ Studio saves me so much time, for an even better result. The mesh obtained from the tessellation has an outstanding quality, for a fraction of the polygon count I'm used to see in other software. I can create many optimization strategies and re-apply them according to the kind of CAD input and final visualization scenario."
Welcome to consult us!
Consulting type:
Consulting content:

Submit