PiXYZ PLUGIN
Brand:Pixyz
Hits:
User Ratings:(0)
Our plugin for Unity3D Editor is the perfect bridge for connecting the engineering & CAD worlds with the gaming world, and allowing effortless integration for creating new and powerful visualization experiences.
Contact us:
TEL: +086-010-50951355 / FAX:+86-010-50951352
Email : cathy@souvr.com / Frank@souvr.com / Robin@souvr.com / sales@souvr.com
Details

Related

Consulting
※Product Overview※


GIVE LIFE TO CAD DATA WITH EFFORTLESS INTEGRATION IN UNITY 3D EDITOR


With PiXYZ PLUGIN, create ready-to-use assets with perfect tessellated meshes, limited polygon count, and automatic UV.


Our plugin for Unity3D Editor is the perfect bridge for connecting the engineering & CAD worlds with the gaming world, and allowing effortless integration for creating new and powerful visualization experiences.


WORKFLOW


1. IMPORT ANY CAD MODEL


With PiXYZ PLUGIN, import a native CAD file (CATPart, SolidWorks, JT, STEP…) within Unity 3D Editor.
See formats supported in PiXYZ PLUGIN.
Use PiXYZ powerful CAD import settings to obtain a ready-to-use asset: keep product hierarchy or merge objects, tessellation presets, LODs, UV creation, up-axis switch…


2. ENHANCE YOUR ASSET WITH THE OPTIMIZATION TOOLBOX


Using the ToolBox you can perform multiple operations on selected GameObjects. You can decimate and merge meshes, flip normals, create UVs, change the origin, switch materials, create light proxy assets and more.


Even better, you're not limited to the predefined modifiers! Using the Create New Custom Action menu, you can create your own ToolBox actions using #C scripting. Using this powerful new option, you can extend the PiXYZ Plugin to meet your specific workflow needs.

3. AUTOMATE YOUR PROCESS


Interactive model operations are great, but sometimes it makes sense to automate tasks to achieve greater consistency and efficiency. That's where the new Rule Engine in PiXYZ comes into play. The Rule Engine provides a way to construct a series of sequential operations to be applied to imported models, or if you prefer, to all GameObjects in a scene.
The Rule Engine contains filtering logic that allows you to restrict operations to portions of the model which meets specific criteria, such as the property name and values.
Note that metadata from the source model is available only when the option to preserve product hierarchy is selected.


A COMPELLING SOLUTION


FULLY INTEGRATED IMPORTER

PiXYZ PLUGIN is seamlessly integrated into your favorite game engine editor, with access to typical import options (combine, merge by material, LODs, collisions…)


CAD FORMAT COMPATIBILITY

Process any CAD model from industry-leading solutions (CATIA, NX, Alias, SolidWorks...), keeping the original product hierarchy See formats supported in PiXYZ PLUGIN.

OPTIMIZATION ALGORITHMS

At import, models are automatically processed with PiXYZ algorithms to get the best mesh quality for your application. Use the Optimization ToolBox to optimize your assets, even if they haven't been imported using the Plugin

RULE ENGINE

The Rule Engine comes with out-of-the-box features which enables you to optimize or stage your scene in an automatic way and isn't restricted to PiXYZ imported models or the PiXYZ ToolBox ; it works on anything in your scene


AUTOMATIC LOD GENERATION

Create LOD on-the-fly when importing a CAD model. They can be easily re-generated at any time (CAD data conservation)

AUTOMATIC UV CREATION

Automatically apply UV Projection (channel 0) and UV flattening for baking (channel 1) when importing CAD models and get ready-to-use assets

POWERFUL FEATURES


Find out more about PiXYZ PLUGIN powerful and innovative features (see more)
PLUGIN WORKFLOW EXAMPLE

Import, Update, Stage you BIM data with Unity. This tutorial shows how to setup a seamless workflow between Unity and BIM Cad softwares: Importing CAD, Staging a Unity scene using the Rule Engine, the metadata and using the Live Sync feature to ease the iteration tasks
RULE ENGINE

Set Rule to automatically switch Materials in Unity. Stage a Unity scene using the Rule Engine and material switcher option with our PiXYZ plugin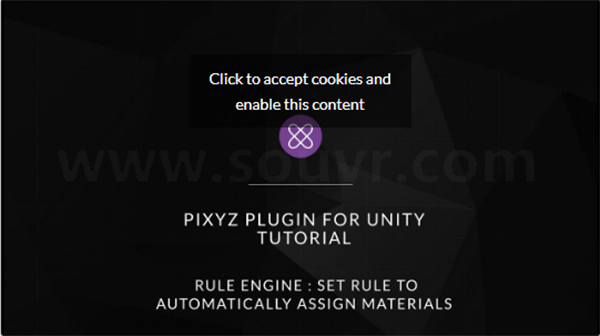 WHO IS IT FOR ?
Anyone who needs to easily bring CAD data coming from manufacturing collaborators or sharing platforms, into a game engine to create new virtual experiences: Interactive 3D developers, 3D artists, Marketing agencies, Engineering & manufacturing departments, Architecture firms,...
"With PiXYZ Plugin for Unity, I can now easily and direclty import and stage CAD models for real-time experiences"

Welcome to consult us!
Consulting type:
Consulting content:

Submit