Details

Related

Consulting
☀Product Overview☀
Geomagic Wrap
SCAN IT. MESH IT. SURFACE IT. IN MINUTES.
Geomagic Wrap delivers the industry's most powerful toolbox to transform 3D scan data and imported files into 3D models for immediate use downstream.

Overview

Geomagic Wrap
From expanded file format support to manipulating texture maps to bring your printed parts to life, the 3D scan data toolbox of Geomagic Wrap has never been more powerful!


Improved Workflow Productivity

Upgraded Geometry Tools


Enhanced Realism of 3D Color Data

REVOLUTIONIZE YOUR 3D WORKFLOWS
Geomagic Wrap delivers the most easy-to-use, affordable, fast, accurate path from point clouds to 3D polygonal and surface models that can be used instantly in downstream engineering, manufacturing, engineering, art, industrial design and more. As part of your 3D digital thread, Geomagic Wrap provides the digital bridge to allow you to create perfect data to use directly in 3D printing, milling, archiving and multiple other 3D uses.
With Geomagic's advanced Exact Surfacing tools included Geomagic Wrap delivers power yet ease-of-use in cutting-edge modeling functions for that flawless 3D model. Scripting and macros available also automate functions for repetitive tasks during the reverse engineering process.
Geomagic Wrap enables users to transform point cloud data, probe data and imported 3D formats (STL, OBJ, etc.) into 3D polygon meshes for use in manufacturing, analysis, design, entertainment, archeology and analysis.

3D IMAGING FOR ANALYSIS, ANIMATION AND FILMMAKING
Rapidly create perfect, watertight 3D models of physical objects from 3D scan data and use them to perform advanced functions such as Finite Element Analysis (FEA) and Computational Fluid Dynamics (CFD). In addition, visual effects artists and animators can use these 3D models in Maya, 3ds Max and more.

ARCHEOLOGY
Archaeologists can use the power of 3D to archive and fully analyze petroglyphs and ancient markings, which often cannot be detected by the naked eye, using Geomagic Wrap. With Geomagic Wrap's direct 3D print capabilities, students and museum visitors can experience an ancient artifact without touching the artifact itself.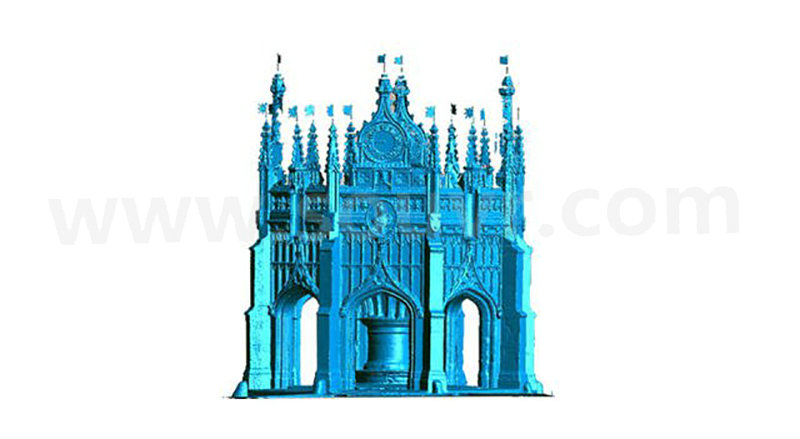 ART AND SCULPTURE
Create perfect works of art, scale sculptures, and archive and restore fragile or eroded artifacts with the help of 3D. Artists and sculptors everywhere are using Geomagic Wrap to represent physical objects in 3D design environments, delivering watertight 3D data in a wide range of industry-standard formats.
Features
Geomagic Wrap's comprehensive toolbox of point cloud and polygon editing features, plus powerful surfacing tools, help you create high-quality 3D models faster.

Unroll Geometry
 Unroll Geometry
 •  Complex cylindrically-wrapped geometery can now be flattened for better analysis.
•  Unroll Points and Polygons for better visibility and easier work process in planar space.
•  Extract design intent from rotating equipment, unroll products of cylindrical cross section.

Trapped Volume Engraving
 Trapped Volume Engraving
•  Surface Engraving can be difficult to visually appreciate on 3D Printed models.
•  The new "Entrapped" feature of engrave can add alphanumeric and DFX-based labels underneath the surface of a part.
•  The Trapped engraving can be filled with support material or a secondary part material during printing providing high contrast for greater visibility.

Scripting 3.0
 •  Powerful new functions and methods have been exposed to the
 scripting environment.
•  Now you can extend the scripting environment by importing 3rd party libraries
•  Create custom ribbon workflows using icons to launch scripts

UV Map Creation
UV Map Creation
• Enhanced UV Texture Map creation gives users full control over
how the UV layout is defined.
• Improvements have been made from patch count control for UV
 creation to mapping a UV to a feature, from finite color control to
full UV editing so that textures properly fit an object

Dimension Tools
Dimension Tools
• Inspired by our Geomagic Control X 3D inspection software we
 have added fundamental measuring tools to improve fast analysis
of scanned parts.
• Cut cross sections through your parts, extract and annotate angular, linear and radial dimensions.

The Industry's most powerful and accurate 3D scan processing software
 •  Point cloud editing and fast creation of accurate polygonal models based on the 3D scan data
 •  Powerful Remesh tools for fast, accurate create clean polygon models from dirty scan data
•  Polygon editing tools for hole-filling, smoothing, patching and water tight model creation

Support for the industry's widest range of non-contact 3D scanning and probe devices
Geomagic Wrap supports all 3D digitizers, cameras, and scanners in XYZ/ASCII format, and it handles ordered and unordered surface and volume data. Scanner support includes:
•  FARO
•  Hexagon
•  Artec
•  Zeiss
•  Shapegrabber
•  LEICA
•  GOM
•  Nikon
•  Zoller & Freulich
•  and more
 
Extensive and Precise Exact Surfacing Tools
Extensive Exact Surfacing tools give more control over your surface quality and layout, and allows for total control over NURBS patch layout, surface quality, and continuity.

Extensive 3D file format export support
 Immediately have 3D data for accurate downstream use including simulation, casting and manufacturing: Very wide range of file export formats include: WRP, IGES, X_T, SAT, PRC, Step, VDA, NEU, 3ds, dxf, oogl, iv, ply, stl, wrl, obj

Immediately use 3D data for 3D printing
Immediately use the data from Geomagic Wrap for 3D printing, rapid prototyping, and manufacturing with 3D Systems 3D printers
Visit Our Support Site for Geomagic Wrap Specifications
 
Geomagic System Requirements
Listed below, you will find the system requirements for Geomagic Solutions software.
Note: System requirements for Geomagic Freeform, Freeform Plus, and Sculpt may be found here.
Note: 32-bit versions of all products are discontinued as of October 2015.
64-bit Edition

OS

 - Windows 7

- Windows 8

- Windows 10

Note:  *Configurations using Virtual environments, including parallels, are not supported

CPU

- Intel® and AMD® processors with a minimum 2 GHz clock speed*

- Recommended: Multiple core processors. Hyperthreading and clock speeds above 3 GHz can be beneficial but should be paired with a good balance of cores.

RAM

- Minimum: 8 GB

Hard Disk

- 30 GB or more recommended

- Temporary file cache requires about 3 GB free disk space for every 100 million points

- Recommended: a SSD with more than 256GB of space or a 10000 RPM HDD

- Recommended for 3D Scanning products: using multiple hard drives and assigning one as a "cache" drive for temporary storage and paging files and assigning the other for the operating system

Display

- 32-bit true color required

- Minimum resolution: 1280 x 960

- Recommended resolution: 1280 X 1024 or higher

GPU

Design X recommended graphics cards
   Recommended: Dedicated (Non-Integrated) Graphics Card that meets the criteria below:

Video Card RAM: 4GB or More

Video Card Framework: Must support OpenGL 4.0 or above

Series: NVIDIA GeForce 900 series or NVIDIA Quadro equivalent or higher

AMD Radeon 400 series or Radeon Pro equivalent or higher

Control X recommended graphics cards
   Recommended: Dedicated (Non-Integrated) Graphics Card that meets the criteria below:

Video Card RAM: 2GB or More

Video Card Framework: Must support OpenGL 4.0 or above

Series: NVIDIA Quadro

Control, Wrap and Essentials recommended graphics cards
   Recommended: Dedicated (Non-Integrated) Graphics Card that meets the criteria below:

Video Card RAM: 2GB or More

Video Card Framework: Must support OpenGL 4.0 or above

Series: NVIDIA Quadro

Notes:
     
   Using a non-recommended card may result in random crashing, graphical anomalies, or data corruption. Use of any non-recommended configuration at your own risk.

Other

- 3 button mouse with scroll

- Sound card

- Keyboard

- Network card

- Internet Explorer version 7.x or higher

- Adobe Acrobat/Reader version 5.x or higher

- Microsoft Office 2003, 2007 or 2010 for reporting tools

- Microsoft Windows Installer 3.0

- Microsoft DirectX 9.0c or later

- Microsoft .NET 4.0 or 4.5 Framework
Welcome to consult us!
Consulting type:
Consulting content:

Submit