Geomagic Freeform
Geomagic Freeform® is a 3D design software that transforms traditional handcraftsmanship into digital design for custom manufacturing.
Contact us:
TEL: +086-010-50951355 / FAX:+86-010-50951352
Email : cathy@souvr.com / Frank@souvr.com / Robin@souvr.com / sales@souvr.com
Details

Related

Consulting
☀Product Overview☀
Geomagic Freeform
MOVE YOUR ORGANIC AND HANDCRAFTED PROCESSES TO THE DIGITAL WORLD
Contact us for a demo and free trial.
Overview
Geomagic Freeform

Integrate Handcraftsmanship into Your 3D Design Workflows
Geomagic Freeform® is a 3D design software that transforms traditional handcraftsmanship into digital design for custom manufacturing.
Geomagic Freeform gives you limitless creative freedom to digitally craft detailed products combined with the precision, repeatability, productivity and scalability of digital workflows.
Create and innovate at the speed of your imagination with highly intuitive design tools. You have the flexibility to design any product or anything with the break-through haptic interface and clay modelling features.


When Traditional CAD Isn't Enough
Flexibly adaptable for large-scale customized products to highly detailed, ornate and artisanal products. Experience the comprehensive advantages and features of Geomagic Freeform:
• Create sculpted shapes and forms ideal for precision fit such as the human body.
 • Add aesthetic and functional details to move beyond the limitations of CAD.
 • Digital design ready for additive, subtractive or formative manufacturing.
 • Touch Haptic Interface, digital design features more precise handcrafted definition.

Learn What Geomagic Freeform Can Do for You
Elevate from handcrafted design and production techniques to digital workflows.
Geomagic Freeform is used for a multitude of applications across a variety of industries. See what is possible for design, manufacturing and healthcare segments.
Geomagic Freeform for Product Design and Manufacturing
 • Fast design and reiterations of intricate models in minutes.
 • Manufacturing-ready models from multiple file formats combining solids and surfaces.
 • Defining complex parting lines, remove undercuts, overhangs and add finishing details.
 • Repair complex geometry no matter the origin design software.

Geomagic Freeform for Orthotic & Prosthetic (O&P)
 • Transform traditional hand fabrication of orthoses and prostheses to digital workflow.
 • Highly personalized, better fitting, lighter, stronger custom devices.
 • Freedom to innovate and personalize artisanship with precise, multi-material engineering grade manufacturing processes.
 
Geomagic Freeform® is not a medical device and 3D Systems makes no claims that it is intended to treat, plan, or diagnose. However, there is evidence and publicly available research that indicates many customers are successful using Geomagic Freeform in their own patient specific solution workflows and are following all local regulatory requirements.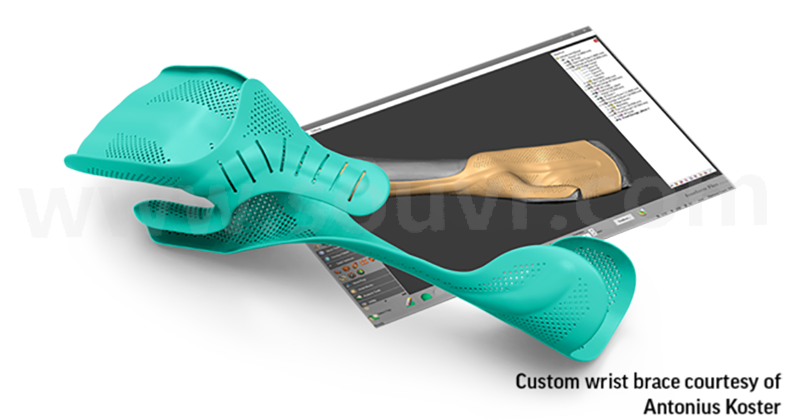 Add the Sense of Touch to Your Digital World
 For the ultimate in expressive freedom and faster modeling, Geomagic Freeform products work exclusively with the included 3D Systems Touch haptic devices to deliver freedom of motion and the physical sensation of sculpting in a virtual environment. This intuitive way of interacting with your 3D design reduces learning curves, speeds design and allows you to deliver top-notch 3D data.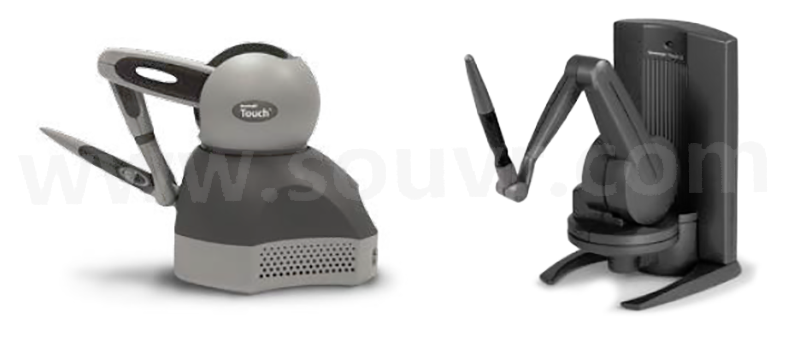 What is a Haptic Device?
Learn how 3D Systems' Haptic Devices can Enhance your Research and Design Workflows

Learn About Geomagic Freeform® 2019
Elevate your design workflow with the new Geomagic Freeform 2019. Digitize your product lifecycle to gain efficiencies with faster, more precise digital design and production. Geomagic Freeform works seamlessly with solid and surface modelling software. It is easy to get started download a free trial with educational tutorials.
Features
Streamline Mass Custom Design Workflows
 • The new Sketch Text tool easily generates outline font profiles that can be used to create 3D part labels.
 • Shell Cut is a new tool that enables the creation of layered text or details as independent 3D objects that match the surface contours of the underlying part. Together these new tools make mass-customization of any design easier than ever.

Improved Accuracy in Complex Designs
This 2D slicing analysis tool not only provides a dynamically interactive cross-section inspection tool, but also provides multiple methods and modes for extracting slice-based image stacks or profile curves. These functions can be used to identify voids, avoid collisions, validate clearance specifications, or reverse engineer the shape of a volume giving you the assurance that your design is accurate and correct.
Improved Documentation Capabilities
Advanced documentation tools enable streamlined communication with your customers.
• Easily create images for downstream documentation with the click of a button
 • Generate a single image or sets of images based on orthographic or turntable views
 • Utilize options that eliminate downstream editing time such as cropping, centering, object filtering and background transparency (PNG)

Promote legacy Common Solids to Solid Pieces
 Freeform Plus v2017 has a new option to promote legacy Common Solids to be Solid Pieces, infusing them with new capabilities. Promoting a legacy Common Solid to be a Solid Piece enables more precise positioning control, per-piece attribute assignment, higher status in the Object List, and access to a broader set of palette tools.

Performance Optimizations
 • Multi-piece Reduce-for-Export is now multi-threaded, reducing processing time as much as 50% or more based on one piece per logical core
 • Reduce file sizes by as much as 95% using optional File Compression on save
 • Optimizations to transparency improves framerates, increases rendering quality, and supports modes for either High or Low Resolution Clay See Through, allowing for the best balance of quality and redraw performance in any workflow situation.

Additional 2017 Enhancements
 • Drag-and-drop to import clay files into an existing open project
 • Measure angle capability added to the ruler tool
 • New tessellation controls are now provided for solid-to-mesh conversions, incluing the import of CAD parts as mesh


Construct Clay
Make smooth surfaces and razor sharp edges with SubD, model precisely defined CAD shapes with NURBS and Solids or deform and emboss shapes with Clay.


Sculpt Clay
Carve and shape your clay with a wide range of tools in your virtual space including razors, knife cutters, scrapers and more. Smooth, smudge and shape the design using a variety of available tools.
Detail and Edit Clay
Tug, ridge, emboss and deform your clay without limitations using Freeform's detailing tools to create exactly the design you envisage. Benefit from the full range of selection and move features that allow repositioning, alignment, and separation of the design. Benefit from a range of dimensional controls to assist with accuracy in designs.

3D Curves
 Easily draw, repair and edit curves, project from a sketch and to a plane, intersect sketches and offset curves.
 Plane Features
 Create, edit and sketch on a plane, orient the plane and copy profiles
 2D Sketching
 Fully create and edit sketches within Geomagic Freeform with pencil, freehand, control point curves, and basic 2D forms such as lines, arcs, circles, etc.


Mesh, Paint and Rendering
Import mesh models and convert to clay, and then edit the data using a range of tools to stitch, deform and tug to desired shapes. Paint the data with airbrush tools, wrap images on a model and render with the mental ray® rendering engine.
Import and export 2D and 3D industry-standard formats including: OBJ, STL, PLY, ZPR, IGES curves, Parasolid, and JPG, among others. VRML and Freeform are included as export-only formats.

Additional Features
 • Create and apply intricate, dimensionally controlled textures
 • 2D sketch; import 2D digital art files
 • Automated alignment of different data sets
 • Toolsets for voxel, polygonal mesh, SubD and NURBS modeling
 • Seamless integration of Geomagic's powerful AutoSurface platform
 • Powerful Boolean operations
 • Draft analysis, no-fail shelling and thickness analysis
 • Complex parting surface development for mold insert design
 • 3D Printability Analysis
 • Pattern/emboss a bitmap along curves
 • Full HD color rendering with KeyShot for 3D Systems


Evaluate and Analyze
Measure mass properties such as surface areas, volumes, piece density, and analyze piece-to-piece fit, intersections and thickness. Display the model with a choice of resolutions to increase processing speed, and opt for scalable secondary views.
 Customization and Utilities
 Toggle new displays for undercuts, hide/show curves and fit to view, customize the UI for color schemes and favorite palettes.


Specifications
Visit Our Support Site for Geomagic Freeform Specifications
Freeform, Freeform Plus, Geomagic Sculpt and Freeform Viewer system requirements
64-bit Edition

OS

- Windows 7 (will no longer be supported in v2020)

- Windows 8.1

- Windows 10 

Note:  *Configurations using Virtual environments, including parallels, are not supported

CPU

- Intel® processors with a minimum 2.5 GHz clock speed*

- Recommended: Multiple core processors and clock speeds above 3 GHz

RAM

 - Minimum: 16 GB

Hard Disk

- Minumum: 8 GB

Display

- Minimum resolution: 1920 x 1080 (4k coming in v2019.2)

Graphics

- OpenGL 3.0 or above. OpenGL 4.3 enables the software to provide additional performance enhancements.
     Freeform, Freeform Plus, Sculpt and Freeform Viewer Recommended Graphics Cards

Freeform/Sculpt/Freeform Viewer v2019:

Company

Model

Win7 Driver

Win10 Driver

Notes

64-bit

NVIDIA

Quadro P620

 

392.00 Sept. 5, 2018
   Win10-64 392.00 driver

PCI-E

x

NVIDIA

Quadro P1000

 

375.86 Nov 16
   Win10-64 375.86 driver

PCI-E

x

NVIDIA

Quadro P2000

 

375.86 Nov 16
   Win10-64 375.86 driver

PCI-E

x

NVIDIA

Quadro P4000

 

375.86 Nov 16
   Win10-64 375.86 driver

PCI-E

x

NVIDIA

Quadro P5000

 

375.86 Nov 16
   Win10-64 375.86 driver

PCI-E

x

NVIDIA

Quadro P6000

 

375.86 Nov 16
   Win10-64 375.86 driver

PCI-E

x

AMD

Radeon Pro WX 7100

 

22.19.640.2 driver
   Win10-64 22.19.640.2 driver

PCI-E

x

AMD

Radeon Pro WX 5100

 

22.19.640.2 driver
   Win10-64 22.19.640.2 driver

PCI-E

x

Note: For a list of additional cards validated against previous releases of Freeform, Freeform Plus, Geomagic Sculpt and Freeform Viewer, click 

here

.

Important Notes:

While 3D Systems makes every attempt to be as thorough as possible, hardware manufacturers change their products frequently and may be shipping newer products or have discontinued active support for others.

The graphics drivers specified in these tables are the drivers that were used for the qualification process. While it may be possible to use the Geomagic modeling systems successfully on earlier or later drivers, 3D Systems cannot guarantee their performance.

Some 3D Systems users have had success running system configurations that deviate from the above. In such cases, these configurations are not officially supported by 3D Systems.

Devices

Applications can make use of the following devices:
         
     Note: When using with Freeform, Freeform Plus or Geomagic Sculpt, please refer to the software Release notes or the Software Downloads pages to determine the latest validated driver to use with the software.

USB Touch X™

- USB 2.0/3.0 compatible port or USB hub

- Touch Device Driver (TDD) v2018.10.22 or above

- Compatible with Geomagic© Sculpt™, Geomagic© Freeform©, Geomagic© Freeform© Plus

Ethernet Touch X™

- Onboard 10/100 Mbps compatible Ethernet port or supplied USB Ethernet Adapter

- Geomagic Touch Device Driver (GTDD) v2016.1.1 or above

- Compatible with Geomagic© Sculpt™, Geomagic© Freeform©, Geomagic© Freeform© Plus

USB Touch™

- USB 2.0 Port

- Touch Device Driver (TDD) v2017.11.30 or above

- Compatible with Geomagic© Sculpt™, Geomagic© Freeform©, Geomagic© Freeform© Plus

Ethernet Touch™

- Onboard 10/100 Mbps compatible Ethernet port or supplied USB Ethernet Adapter

- Geomagic Touch Device Driver (GTDD) v2016.1.1 or above

- Compatible with Geomagic© Sculpt™, Geomagic© Freeform©, Geomagic© Freeform© Plus

PHANToM Desktop™

- Onboard Parallel Port Axxon parallel adapter card or PHANTOM Communication Converter (PCC) (See important note)

- PHANTOM Device Driver v5.1.9

- Compatible with Geomagic© Sculpt™, Geomagic© Freeform©, Geomagic© Freeform© Plus


Legacy haptic devices

Other

Qualified Configurations

3D Systems has tested and qualified the following specific configurations. Choosing one of these configurations will ensure the best possible experience when running the Geomagic Freeform, Freeform Plus and Sculpt system.

Important: Using the Freeform, Freeform Plus and Geomagic Sculpt system with one or more discrete components of a fully qualified configuration (graphics card, for example) as part of an a la carte configuration does not imply qualification of any kind, partial or otherwise.

Desktop Workstations

HP Z6 Workstation, with Intel® Xeon® Gold 6132 CPU (2.60 GHz, 19.25 MB cache, 14 cores, 28 logical processors) 2 Processors

Qualified for Windows10 64bit

Minimum 16 GB RAM

NVIDIA Quadro P4000 8GB

BIOS Version: HP P60 Ver. 01.27

Haptic Device Connectivity

USB Touch X™ and Touch™

Ethernet Touch X™ and Touch™ (with supplied StarTech USB Ethernet adapter)

HP Z2 Mini G3 Workstation, with Intel® Core™ i7-6700 (3.4 GHz, up to 4 GHz with Turbo Boost, 8 MB cache, 4 cores) + Intel® HD Graphics 530

Qualified for Windows10 64bit

Minimum 16 GB RAM

NVIDIA Quadro M620 2GB

BIOS Version: HP N53 Ver. 01.04, 11/1/2016 or newer

Haptic Device Connectivity

Ethernet Touch X™ (with supplied StarTech USB Ethernet adapter)

USB Touch™

HP Z840, with Intel® Xeon® E5-2660 v3 CPU (2.60 GHz, 25 MB cache, 10 cores) 2 Processors

Qualified for Windows8.1 64bit

64 GB RAM

A compatible graphics card

BIOS Version: M60 v00.96 or newer

Haptic Device Connectivity

Ethernet Touch X™  (with supplied StarTech USB Ethernet adapter)

USB Touch™

Laptops

HP ZBook 17 G5, with Intel® Core™ i-7-8700K CPU (3.7GHz, 12 MB cache, 6 cores), 3840x2160 Display

Qualified for Windows10 64bit

16 GB RAM

A compatible graphics card (qualified with NVIDIA Quadro P5200)

Haptic Device Connectivity

USB Touch X™ and Touch™

Ethernet Touch X™ and Touch™







Note:

 Freeform currently requires 1920x1080 screen resolution. HiRes monitor support for 3840x2160 is anticipated to be in our fall 2019 service pack (v2019.2).

HP ZBook 17 G4, with Intel® Core™ i-7-7820HQ CPU (2.90 GHz, 8 MB cache, 4 cores)

Qualified for Windows10 64bit

16 GB RAM

A compatible graphics card (qualified with NVIDIA Quadro P5000)

Haptic Device Connectivity

Note: Haptic communication issues have been experienced when using a StarTech Ethernet-to-USB adapter with this laptop. Users are advised to use direct Ethernet port connection instead.

USB Touch X™ and Touch™

Ethernet Touch X™ and Touch™


HP ZBook 17, with Intel® Core™ i-7-4900MQ CPU (2.80 GHz, 8 MB cache, 4 cores)

Qualified for Windows8.1 64bit

16 GB RAM

A compatible graphics card

BIOS Version: L70 v01.10 or newer

Haptic Device Connectivity

Ethernet Touch X™ (with supplied StarTech USB Ethernet adapter)

USB Touch™