Details

Related

Consulting
※Product Overview※
 3D Sprint

SETTING THE NEW STANDARD IN 3D PRINTING
Experience true productivity with exclusive additive manufacturing software for 3D Systems Plastic Printers

Overview
Increase Productivity with Exclusive Software for 3D Systems Plastic Printers
Prepare and optimize CAD data and then manage the additive manufacturing process on your 3D System's plastic 3D printers. 3D Sprint delivers tools that allow you to 3D print better parts without needing high-priced software to achieve it.


SUCCESSFUL 3D PRINTING IS NOW AVAILABLE TO EVERYONE
3D Sprint is 3D Systems' exclusive software for preparing and optimizing CAD data and then managing the additive manufacturing process on its plastic 3D printers. With an arsenal of additive manufacturing preparation, editing and management tools, 3D Sprint enables you to significantly decrease cost of ownership of your 3D Systems 3D printers by reducing the need for costly software seats by third party vendors.

INCREASE EFFICIENCY WITH OPTIMIZED MANAGEMENT OF YOUR DATA
With standard 3D data importers available, you can import 3D meshes and repair them, access a wide range of 3D editing tools, conduct immediate printability analysis, and take advantage of the built-in, intelligent software to optimize part placement and supports for your 3D printer. 3D Sprint makes it easy to become efficient with 3D printing and 3D Systems printers.

BE MORE PRODUCTIVE AND REDUCE PRINTER DOWN-TIME
3D Sprint's management and monitoring tools allow you to accurately estimate print time and optimize material levels and usage both before and during the print operation. Manage print queues, job priorities, and monitor printers with immediate knowledge if a technical issue is causing a problem across your local network.

SINGLE, EASY USER INTERFACE STREAMLINES TIME-TO-PRINT
The single user interface delivers the tools you need to go from design to 3D print, offering an unparalleled user experience across 3D Systems plastic printers.

3D Printing Workflows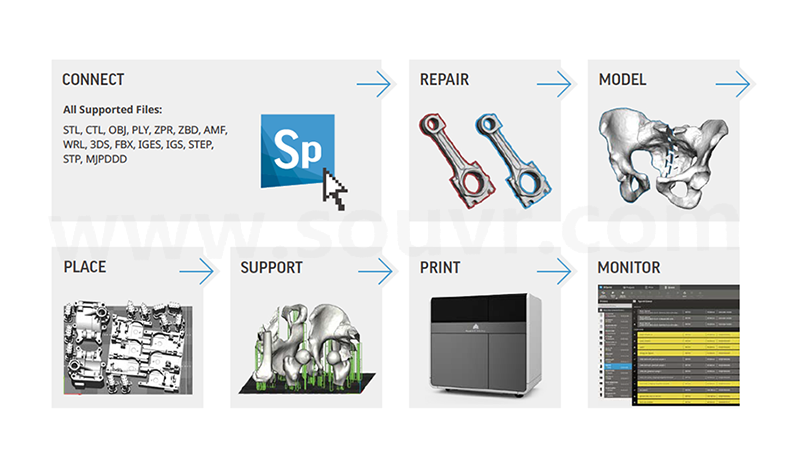 Features
3D Sprint Analyze and Repair
Advanced and automated part geometry analysis, error correction for translation issues in CAD or STL design files as well as bad polygon geometry in 3D scans
For more difficult geometry repair: manual polygon editing tools to select edit and delete polygons
Intelligently fill holes and gaps in polygon data


Simplicity with Design Automation
Easy-to-use modeling wizards with automated tools
Design automation tools help accomplish modeling objectives for 3D printing applications, reducing the need for additional software


Connectivity
Easily scalable and flexible system to adapt to rapid material and print technology innovation
Provides file I/O to support industry- standard 3D file formats
Support for all native cad and polygonal formats will be supported in our premium version


Oriented for Success
A complete set of capabilities such as requirement-driven orientation, dense 3D nesting and manual orientation for fine-tuning builds
Intelligent tools to set orientation constraints and allow the software to automatically find the ideal solution such as fastest print time, best surface finish, or optimizing support structures
Automatic 3D part nesting efficiently orients and packs build platform, while high-performance algorithms ensure the tightest possible geometric packing without extended computing time
Automated quality check before printing will identify any risks associated with build, leveraging a 10-point part and build volume inspection that ensures success


Manage and Monitor
Submit print jobs directly from the Print Workspace, or load 3D Sprint build files created on another system directly to the printer
Accurate build time and material estimation algorithms enable efficient management of material usage and build priority decisions
Queue management tools deliver total control over job priorities, as well as accurate status updates on remaining build times
Management of directly-connected printer and visibility of all networked or shared printers


Specifications
Visit Our Support Site for 3D Sprint Specifications
3D Sprint™
System Requirements

| | | |
| --- | --- | --- |
|   | Minimum | Recommended |
| OS | Windows 7(SP1)/8/10 (64-bit) |   |
| CPU | Intel® or AMD® processor with a minimum of 2.0GHz | Multiple core processor. Hyper-threading and  clock speeds above 3GHz can be beneficial but  should be paired with a good balance of cores. |
| RAM | 4 GB | 8 GB or more |
| Hard Disk | 7GB of available hard-disk space  Additional space may be required for cache. Temporary file  cache requires about 3GB free disk space for every 100  million points. | SSD |
| Display / GPU | OpenGL 2.1 and GLSL 1.20 enabled graphics card  Screen resolution 1280x960  Graphics card:  Intel HD or Iris (HD 4000 or newer), or  Nvidia GeForce GTX 285, Quadro 1000 or newer, or  AMD Radeon HD 6450 or newer | OpenGL 3.2 and GLSL 1.50 enabled graphics  card.  NVidia or AMD GPU with 1GB of RAM or more  Screen resolution 1280x1024 or higher |
| Other | 3 button mouse with scroll  Keyboard  Internet Explorer 9 or newer  Microsoft .NET Framework 4.6.1 (installed with application) | Google Chrome or Internet Explorer 11 |
Note: You may have to update your graphic card driver. See the installation guide for more information.
 Note: For supported 3D files, see the included help in the application.
Note: Starting the application through a Remote connection does not utilize OpenGL hardware acceleration.
Welcome to consult us!
Consulting type:
Consulting content:

Submit