MTi 1-series
Brand:Xsens
Hits:
User Ratings:(0)
The MTi 1-series is a full-featured GNSS/INS, AHRS, VRU, and IMU with GNSS receiver support on a 12.1 x 12.1 mm PCB.
Contact us:
TEL: +086-010-50951355 / FAX:+86-010-50951352
Email : cathy@souvr.com / Frank@souvr.com / Robin@souvr.com / sales@souvr.com
Details

Related

Consulting
※Product Overview※
   
MTi 1-series

The MTi 1-series is a full-featured GNSS/INS, AHRS, VRU, and IMU with GNSS receiver support on a 12.1 x 12.1 mm PCB. The MTi 1-series is an excellent choice for use in high-volume applications that require robustness from the latest miniature MEMS technology.

Overview

The MTi 1-series module is a full-featured GNSS/INS with GNSS receiver support, 3D Attitude and Heading Reference System (AHRS), Vertical Reference Unit (VRU) and Inertial Measurement Unit (IMU). The PCB features the proven XKF3TM sensor fusion algorithm on-board and will incorporate the latest inertial MEMS technology while keeping the software and hardware interface the same. This makes it ideal for users who want to benefit from the advances in MEMS technology, but cannot or do not want to invest in costly development, if a component is no longer available.


With its miniature SMD form factor (12.1×12.1mm) and low power consumption it is ideal for low level integration in upcoming technologies including drones, UAV's, smart farming, unmanned control, Internet of (Moving) Things and robotics.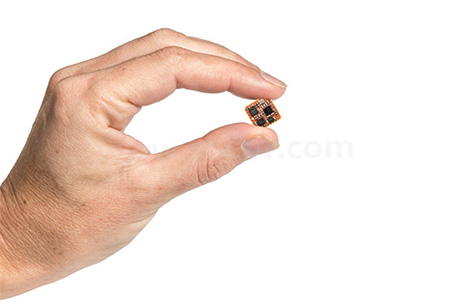 MTi 1-Series Specifications


| | |
| --- | --- |
| Roll/pitch (dynamic/static) | 0.5 deg |
| Yaw (dynamic) | 1.5 deg |
| Position and velocity | (with MTi-7-DK) |
| Horizontal position 1σ STD (SBAS) | 1.0 m |
| Vertical position 1σ STD (SBAS, baro) | 2.0 m |
| Velocity 1σ RMS | 0.05 m/s |
Supported GNSS Receivers
uBlox
MAX-M8 series

The MTi is available as an AHRS, VRU and IMU.
| | | | | |
| --- | --- | --- | --- | --- |
| Product Output | MTi-1 IMU | MTi-2 VRU | MTi-3 AHRS | MTi-7 GNSS/INS |
| Inertial data | ● | ● | ● | ● |
| Magnetic field | ● | ● | ● | ● |
| Free acceleration |   | ● | ● | ● |
| Roll/pitch |   | ● | ● | ● |
| Heading tracking |   | ● | ● | ● |
| Referenced yaw |   |   | ● | ● |
| GNSS Receiver support |   |   |   | ● |

Robust sensor fusion
The XKF3TM sensor fusion algorithm running on-board is fully configurable, limiting the load on the application processor.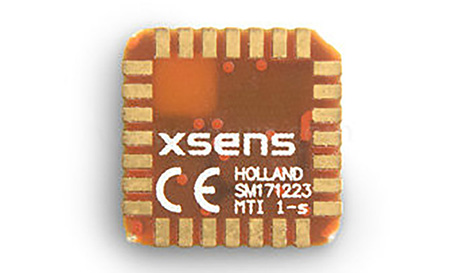 Standardized hardware design
The module PCB is compatible with the JEDEC PLCC-28 standard offering full flexibility in mounting the MTi 1-series module.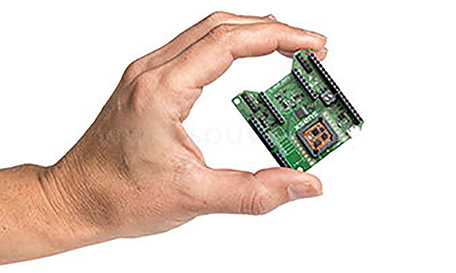 Development Kit available
The Development Kit with the extensive MT Software Suite allows system integrators and evaluators to start development within minutes.

GNSS Receivers
The MTi-7 GNSS/INS module is a miniature motion tracking module with multiple GNSS receiver support. The receiver support platform is built modular to support the existing GNSS infrastructure from your application. Please let us know about your application and find out how the GNSS receiver of your choice can be integrated with the MTi-7 GNSS/INS.
The MTi-7 GNSS Receiver platform is structured to support multiple receivers, receivers that are not yet supported can be added if you supply us with your application information

Downloads

MT Software Suite
The MT Software Suite gives easy access to Xsens' products. The suite contains a specially developed and easy-to-use graphical user interface, as well as drivers for various operating systems and many other useful tools, example source code and documentation.
Although it is easy to set up the MTi via the low-level XBus protocol, communication is made easy with the Xsens Device API (XDA) which is completely in C-code.



MT Software Suite Includes:
 • MT Manager
 • MT SDK with the following software development tools
 – XsensDeviceApi.dll (XDA) – DLL C interface
 – XDA source files – C, C++ wrapper
 – Example source code for MATLAB, Python, C++, C#, ROS and Nucleo boards
 • Magnetic Field Mapper executable (GUI) and MFM SDK
 • Complete documentation

Firmware
 The Firmware of all our MTi products can be downloaded on the firmware page

Data Download
 In order to test MT Software Suite we've made some test data available from various applications.
Sample and Buy
The MTi 1-Series is available in trays of 20 pcs or 100 pcs, or on reels of 250 pcs and as Development Kit from the Xsens Online Shop and from various (online) distributors. Pricing as low as €69 for 5000 pcs. Click here to find more information on part numbers, exact pricing and distributors.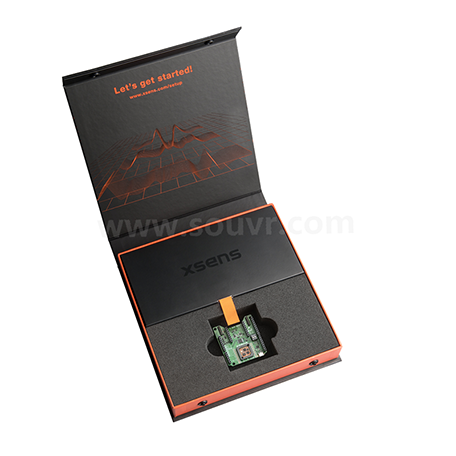 MTi 1-Series Development Kit
 In order to get started with the MTi 1-Series, an extensive Development Kit for characterization and prototyping is available. The Development Kit includes:
• Arduino header compatible development kit
 • Easy to use connection (micro USB), access to I2C/SPI/UART
 • Full functionality and pin configuration
 • Intuitive MT Software Suite (Linux / Windows GUI)
 • SDK with drivers and embedded software examples
 • Shield board, GNSS daughter card, GNSS antenna and USB cable
Welcome to consult us!
Consulting type:
Consulting content:

Submit