Noitom's Hi5 Glove at CES 2017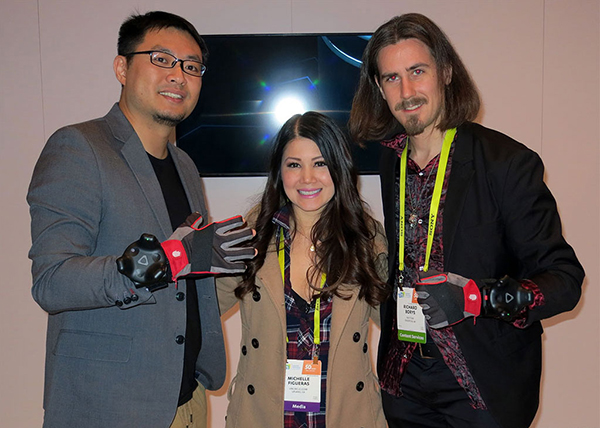 My loyalties are torn. Don't get me wrong. I love my Oculus Rift & Touch, but, this HTC Vive and Noitom's Hi5 Glove combo swept me off my feet faster than Mr. Clean's super bowl commercial.
Before I grace you with the video of me trying the Noitom's Hi5 Glove, let me discuss the details.
Hi5 is a fully immersive wireless VR glove developed as an accessory for the HTC Vive. This sensor-based glove takes seconds to configure, by touching together your forefinger and thumb before use. Once you are configured, it's ready to go. The Hi5 VR Glove contains six, nine-axis IMU sensors on each finger for full left-and-right-hand motion capture with high-performance tracking. The Hi5 Glove run with one AA battery and 2.4Ghz wireless technology.

I tried a demo that included the ability to paint, pick up, stack and throw objects. I instantly loved that I didn't have to hold on to a trigger to grab something. I just used regular hand motions, and the gloves were incredibly responsive.
This product is expected to launch during spring of 2017. Time to play, Vive owners!
Check out the video here.