2018: Reflections of an Energetic Year Driving Product Innovation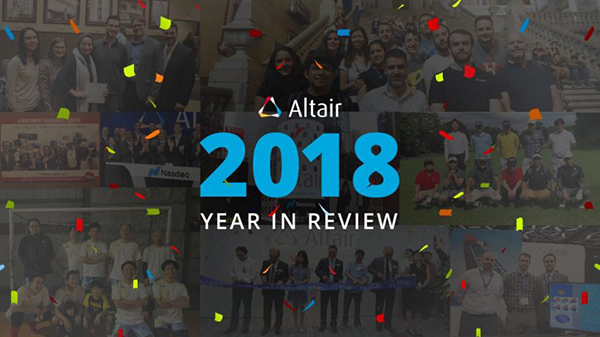 From the onset, 2018 promised to be a busy year which, on reflection did not disappoint. In its unique position of delivering highly complex software solutions to a broad range of verticals and business segments, the drive for product innovation was evident with every release, acquisition, new initiative, event, conference, webinar and training, making for a spirited year that simply flew by.
Altair completed 5 acquisitions throughout the year. Expanding thermal capabilities for Electronics, Altair acquired TES International's technology, intellectual property, and other assets in February. Their main CFD software, ElectroFlo, is an electronics cooling package designed for high power-density applications.
In May, the acquisition of CANDI Controls  assets added edge gateway technology to Altair's IoT Platform, enhancing smart solutions and actionable gateway analytics with cloud-based monitoring and control. Following this acquisition, Altair SmartWorks was launched offering complete IoT solutions from sensor to insight, which includes edge-to-cloud IoT platform, augmented data analytics, and cloud HPC technology to accelerate innovation. It has been built for optimal flexibility, from its extensive compatibility with third party hardware, communication technologies, and applications to its innovative licensing and global partner ecosystem.
Accelerating our CFD technology with the acquisition of FluiDyna, Altair added a team specializing in NVIDIA GPU-based HPC for Fluid Mechanics. ultraFluidX solves large-scale internal and external aerodynamics problems for a broad class of applications including ultra-fast prediction and evaluation of vehicle, building, and environmental aerodynamics. nanoFluidX is a fluid dynamics simulation tool based on the smoothed particle hydrodynamics method to predict the flow in complex geometries with complex motion.
In October, Altair announced the acquisition of SimSolid; a game-changing simulation technology for designers, design engineers, and simulation analysts. SimSolid is a structural analysis software developed specifically for rapidly evolving design processes. It eliminates geometry simplification and meshing, the two most time-consuming and expertise-extensive tasks done in traditional FEA, enabling the analysis of fully-featured CAD assemblies. SimSolid can analyze the most complex parts and large assemblies on a standard laptop/desktop class computer, providing accurate results in seconds to minutes.
Expanding on our entrenched leadership position in the automotive and aerospace industries, Altair's acquisition of Datawatch in December allows immediate access to the top financial institutions in the world to our world-class optimization and simulation software
Datawatch specializes in data intelligence solutions – the unification of data collection, analysis, visualization and prediction. Their solutions provide the ability to work with more data that you can trust and believe in, and that empowers you to win minds and transform business. Data Strategy preparation solutions include desktop-based Monarch for self-service data preparation, offering the easiest way to access, clean, prepare and blend any data – including PDFs and semi-structured text files, and Swarm, offering team-driven data preparation, combined with a centralized data marketplace to speed collaboration and drive governance across the enterprise. Angoss simplifies predictive analytics for businesses looking to monetize their data, and Panopticon is a real-time visual analytics platform representing a major advance in capabilities designed to help capital markets firms operate more efficiently and profitably.
Accelerating the pace of product innovation, simulation-driven design software Inspire 2018  was released early in the year. Inspire 2018 enables designers and engineers to leverage simulation in new and inventive ways to accelerate the development of high-performance, innovative products.
Altair Inspire and Altair 365 – new platforms for simulation-driven design combining early concept development, virtual validation, manufacturability, and cloud collaboration to innovate products faster, were introduced in September. The Altair Inspire platform enables manufacturers to leverage simulation to drive the entire design process, accelerating the pace of innovation and reducing time-to-market. This new platform brings together simulation solutions for generative design, engineering analysis, and manufacturability under a single, intuitive user environment, appealing to designers and engineers with little or no simulation experience. Together with the release of Altair Inspire, Altair also debuted its Altair 365 engineering collaboration platform on Microsoft Azure. Altair 365 allows customers the flexibility to access Altair Inspire and the entire solidThinking suite in the cloud under its new solidThinking units licensing model, a disruptive new licensing model for the solidThinking Software Suite introduced in August.
Expanding our role in the HPC space, PBS Works 2018 was released in April, and PBS Professional v18 in June, greatly enhancing the cloud high-performance computing experience, once again demonstrating Altair's commitment to support the needs of the HPC community.  Altair expanded its relationship with Oracle to offer on-demand, Computational Fluid Dynamics (CFD) technology on Oracle Cloud Infrastructure, accelerating external aerodynamics and other complex flow simulations.
Recognizing Altair as a leading industry expert working closely with Amazon Web Services (AWS) and delivering effective solutions to help organizations manage critical issues pertaining to the Industrial Software industry, Altair was nominated for the AWS Industrial Software Competency. After being selected as the first software company to receive Cray's supplier of the year award in 2017, via extended collaboration, PBS Professional remained bundled as the preferred commercial scheduler on new systems manufactured and shipped by Cray.
Widely-used to accelerate the global design process for the automotive, aerospace, defense, communications, consumer electronics, energy and healthcare industries, the latest version of Altair's electromagnetic simulations solutions was released. The rich set of features in the 2018 release of the HyperWorks EM solutions portfolio in May includes broadened functionality, simplified workflows, and an enhanced user experience enabling broad deployment of products relevant to e-mobility and communications, industry 4.0 ad IoT.
In July, Altair launched a global startup program for new tech and emerging markets Entrepreneurs. The program features simulation software and expert consulting "priced-right" for hardware startups with the aim to accelerate technology commercialization and long-term collaboration. For the startup community has always been at the forefront of innovation in new and high-growth markets of shared interest, the program provides a powerful vehicle for Altair to connect more directly with hardware startups to help mitigate product performance and financial risks early, realize a successful exit and cost-effectively scale for growth with Altair's open-architecture simulation solutions.  Promotional events included a workshop hosted at the Nasdaq entrepreneurial center in Nasdaq entrepreneurial center in San Francisco.
To help innovators everywhere accelerate the time-to-benefits from Model-Based Development (MBD) and to make MBD more open and accessible, in September, Altair Introduced Open Source and Free Basic Editions for Model-Based Development Offerings. With Altair open-sourcing its open matrix language to the worldwide community allows active collaborative to keep up with the ever-increasing pace of technology changes.
Altair hosted and participated in several events throughout the year.
JEC World in Paris, Hannover Messe in Germany, ACES in Denver, Aerodef in Long Beach, Smart IoT in London, Motor and Drive Systems in Florida, IoT World Americas in California, ASME Turbo Expo in Norway, APS in Boston, 13th World Congress on computation mechanics in New York, GALM in Detroit, EMC Europe and America, IoT world in Singapore, IoT Solutions World Congress in Barcelona, Euroguss in Mexico, NAFEMS in Troy, formnext in Germany, Supercomputing in Dallas, with technology conference events in Italy, Troy, Berlin, the first-ever ATCx in Israel, Poland, Japan, the Czech Republic, and the UK and more.
Simulation-driven Innovation™ was at the heart of the 2018 Global Altair Technology Conference, one of the highlights of the year. Attended by over 800, the highly successful event was held in Paris, France in October. The leading digital event offered in-depth workshops, deep technical sessions and presentations on topics including design for manufacturing, lead time reduction, fatigue simulation, design for AM, e-mobility, system simulation, and IoT.
The highlights of the premier event were the high-level keynotes presentations on the latest trends in design for 3D printing, generative design, multi-disciplinary optimization, IoT and the digital twin, e-mobility, and machine learning. Jaguar Land Rover, Ferrari, Volvo Cars, LG, ClassNK, Harvard Business School, Columbia University and Team Tao revealed how simulation technologies, the development of digital twins, and the deployment of machine learning are influencing the future of product creation. Keynotes by Altair CTOs Dr. Uwe Schramm, James Dagg, and Sam Mahalingam, focusing on the recently announced closer collaboration between Oracle and Altair, gave deeper insights into Altair product development strategy.
16 APA partners participated in the Altair Technology Conference last October in Paris, France. Our APA sponsored partners had the opportunity to showcase their software solutions to the over 800 global attendees interested in looking for the next generations of innovative software solutions.
Altair was proud to be a 2018 partner in innovation with Shell to provide software and support to students who are making the future in automotive technology. In April, Altair teamed up with Shell to assist in the judging of the Vehicle Design Award at Shell Eco-marathon Americas 2018 in Sonoma, California. This award recognizes innovative design, research and original execution in terms of ergonomics, aesthetics, choice of materials, technical feasibility and eco-friendliness.
Noted Researcher, Educator, and Leader Mary C. Boyce, Dean of Engineering at Columbia University accepted a position on the Altair Board in April. She is Dean of The Fu Foundation School of Engineering and Applied Science at Columbia University in the City of New York, where she is also the Morris A. and Alma Schapiro Professor of Engineering. 
In its 6th year, the Altair Enlighten Award grew in scope, adding a fourth category for the "Future of Lightweighting". With 57 automotive industry finalists vying for the coveted award, GM, BMW, Asahi Kasei and Mazda, Sika Automotive, United States Steel and American Axle & Manufacturing took top honors as the winners. The winner in the Full Vehicle category was General Motors' 2019 Chevrolet Silverado, which weighed in at an impressive 450 pounds (204.5 kilograms) lighter than its predecessor. BMW Group claimed the Module category with the first 3D printed metal component used in a production series vehicle, which captured a 44% component weight savings on the 2018 BMW i8 Roadster. Asahi Kasei Corporation's Super Lightweight Pedal Bracket for the Mazda MX-5, Sika Automotive's Ultra Lightweight Constrained Layer Material System, and United States Steel Corporation's Martensitic Advanced High Strength Steel, Mart-TenTM1500 took the top honors in the Enabling Technology category. The award for the new Future of Lightweighting category, chosen by MBS attendees, went to American Axle & Manufacturing, Inc. (AAM) for its Quantum Driveline Architecture program.
Nasdaq Invited the 2018 Altair Enlighten Award Winners to Participate in the Opening Market Bell Ceremony in Times Square where the Winning technologies were featured prominently on giant screens in Times Square and in global broadcasts.
Nasdaq and Altair also joined together in November for a webinar to discuss how to capitalize on the digital transformation. The panelists discussed how data and smart connected products optimize business performance.
WEYV rang the opening bell at Nasdaq in New York in June, following which they announced their vision to transform the digital economy to a new and more equitable model for artists, creators and consumers. In December they marked their first anniversary with a year that added significant expansion of in-app services. Partnerships with Cricket Media added e-Books, LyricFind added lyrics, and with Bonnier Corporation expanded in-app magazine options. New integrations include Sonos, Amazon Alexa and Google Chromecast, extending the WEYV music experience to stream in every room of a home.
The Altair Partner Alliance (APA) saw some significant growth with the launch of new companies and several new software products being added by existing partners. A hearty welcome to General Electric and RAMDO Solutions, LLC. GE's Flow Simulator software was added to the APA offering direct licenses to Altair customers. Flow Simulator is an integrated flow, heat transfer, and combustion design software that enables mixed fidelity simulations to optimize machine and systems design.
We were part of so many incredible projects and some cool ideas!
For the relay satellite of Chang'e 4, the Chinese lunar exploration mission that achieved the first soft landing on the far side of the Moon, Altair Inspire was used for topology optimization and lightweighting of the momentum wheel bracket.
Altair HyperWorks was used extensively by world-renown architectural firm Zaha Hadid for several projects. A design competition involving the Iconic Neue Nationalgalerie, architectural development of an extraordinary school in rural China, a pavilion for the Morpheus Hotel in Macau, and more.
For a project at the Sunnybrook Research Institute (SRI), involving the development of safe imaging procedures of patients with Deep Brain Stimulation (DBS), Altair Feko was used in the study to reduce heating during MRI.
The Altair HyperWorks suite was used throughout the development process for a collaborative project to develop a Cross-Catapult technology demonstrator; the Mono-Ski or Sit-ski, a device for sports that uses adaptive equipment on mountain slopes, designed for individuals with lower extremity limitations.

Altair's award-winning magazine Concept To Reality published its last print issue in 2018. C2R magazine's high-quality content focusing on cutting-edge design and innovative strategies and 'outside-the-box' business solutions will now be going digital!
And now, from around the globe, sharing Altairians' moments from throughout the year. At the conclusion of another exciting, successful year, we wish you the very best of 2019!