3D Scanning and Printing Bring Artwork to Life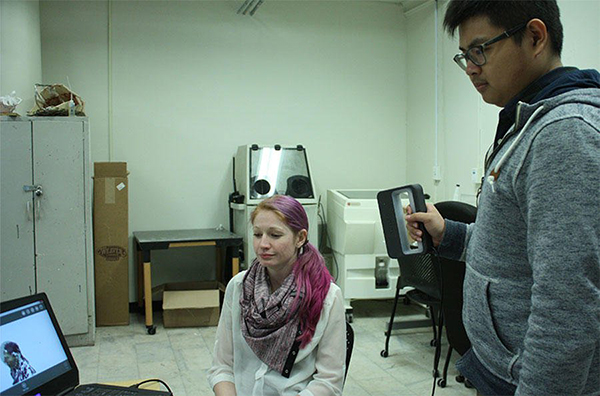 Professor Davide Prete is an architect, sculptor and 3D printing guru who also brings his vision of art as a lecturer to students at George Washington University Corcoran School of Arts and Design. The school was founded in 1890, but despite a lengthy history, new technology is welcome in this space, even for the Fine Art classes. Prete's class, "Sculpture and New Technologies," allows students to explore the interaction between new technologies such as 3D scanning, modeling, and 3D printing, alongside traditional sculpture methods such as wax modeling and metal casting.
For the first week of class, students start directly with the Sense 3D scanner prior to learning any software.
"The students start with a scan of a human body or a sculpture from the outset," said Prete. "They have less fear about digitally experimenting with shapes they first handled in the real world."
The first step of the students' digital sculptural exploration is to contribute to a cooperative sculptural panel that Prete creates with them.
"Each student creates a tile that is 3D printed and connected together," said Prete. "Using the Sense-scans, they reinterpret their own face and connect it with social issues such as sexism, climate change, discrimination, gun control and so on."
One such project is the Filagre tile by Victoria Meyers as a representation of her personal brand.
Meyers said, "I started with a bust of myself created by the Sense 3D scanner. I used some sculpting software to smooth the details and remove unwanted data. When I put it into the Rhino CAD platform I also added filagre shapes created in Adobe Illustrator and saved as DWG."
"I really love filagre with a floral feel," Continued Meyers. "I use it in my personal logo and it is tattooed on my right shoulder. This tile is a representation of that."
Carey Milliron's inspiration came from his favorite place – a meadow at his grandmother's house.

"My grandmother's home has a meadow outside with different plants and grasses. Each summer the meadow comes to life as the wildflowers bloom and the hummingbirds arrive," said Milliron. "Using this inspiration, I decided to combine different 3d shapes with my face scan to tell the story of my favorite place."
Dave Schilp used a Sense-scan of his face, added it to a muscular male figure in 3D to create "The Incredible David." (Image)
"The body proportions are overly exaggerated like a comic book or cartoon superhero/villain would have but has my face." Said Schilp.
Prete's students have created hundreds of tiles for the cooperative panel using the Color jet 3D printing from 3D Systems.
"The best 3D printer for this kind of work is the Projet Color jet printers," said Prete. "With powder printing, students can easily adjust the final 3D printed part and infiltrate it to make it stronger."